Charcot foot is a rare but serious complication that can affect persons with peripheral neuropathy, especially those with diabetes mellitus. Charcot affects the bones, joints, and soft tissues of the foot or ankle. An open wound with foot deformity can lead to an infection and even amputation.
References
Dansinger, Michael, MD. "What Is Charcot Foot?" WebMD (June 13, 2020). https://www.webmd.com/diabetes/what-is-charcot-foot (accessed on 8/2/2020).
Rogers, Lee E., DPM. "The Charcot Foot in Diabetes," Diabetes Care 2011 Sep; 34(9): 2123-2129. https://doi.org/10.2337/dc11-0844. https://care.diabetesjournals.org/content/34/9/2123  (accessed on 8/2/2020).
Yousaf, Sohail, et. al. "The acute Charcot foot in diabetics," EFORT Open Rev. 2018 Oct; 3(10): 568–573. Published online 2018 Oct 24. doi: 10.1302/2058-5241.3.180003. https://www.ncbi.nlm.nih.gov/pmc/articles/PMC6335590/ (accessed on 8/2/2020).
Featured Article
Charcot Foot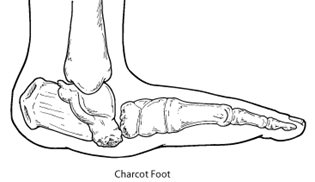 https://www.foothealthfacts.org/conditions/charcot-foot
Supporting Articles
Charcot Foot
Treatment has three goals: take the weight off the foot, treat bone disease, and prevent new foot fractures.
https://my.clevelandclinic.org/health/diseases/15836-charcot-foot
Charcot Foot
https://www.diabetes.co.uk/diabetes-charcot-foot.html
Diabetic (Charcot) Foot
https://orthoinfo.aaos.org/en/diseases–conditions/diabetic-charcot-foot/
The acute Charcot foot in diabetics
https://www.ncbi.nlm.nih.gov/pmc/articles/PMC6335590/
The Charcot Foot in Diabetes
Diabetes Care 2011 Sep; 34(9): 2123-2129.
https://care.diabetesjournals.org/content/34/9/2123
The Charcot Foot in Diabetes
https://www.ncbi.nlm.nih.gov/pmc/articles/PMC3161273/
What Is Charcot Foot?
https://www.webmd.com/diabetes/what-is-charcot-foot
---